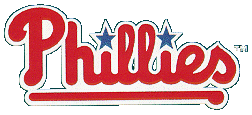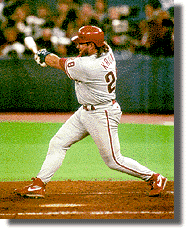 Shrine to John Kruk
Why do I wear #29 for my summer league softball team? You can have your Hall of Famers, you can have your Griffeys and Rodriguezes and guys named "Chipper," but my favorite baseball player ever is John Kruk, first baseman for the Padres, Phillies and White Sox. He swung a mean bat, had deceptive speed, gave his all for the team, and always came through in the clutch. More than anything, though, it's just that he's so NORMAL. He looks like that guy from the machine shop you always see in the neighborhood bar. As he himself said, when admonished for being a professional athlete and yet smoking, "I ain't an athlete, lady, I'm a baseball player." Plus, he's funnier than hell, as evidenced by numerous appearances on Letterman. The Krukker retired a few years back due to bad knees, and he is sorely missed. Here's an archive of pictures, articles, and other items about him.

Surely you know by now that John has a plush gig on ESPN's Baseball Tonight. They're even letting him write a column on espn.com's Page 2.

At long last, someone has come up with video of Kruk vs. Randy Johnson. Scroll down to 1993 or just search for "Kruk." Thanks to Alan Slay for sending the link.
If you wish to contact John, your best bet is to go through ESPN (though as of May 2 they don't have an e-mail address or anything else for him on espn.com). I don't have any direct contact information, sorry. I don't have any special connections to Kruk memorabilia, either; try eBay, or check the Phils' web site for a Kruk public appearance and get him to sign somehting yourself.
---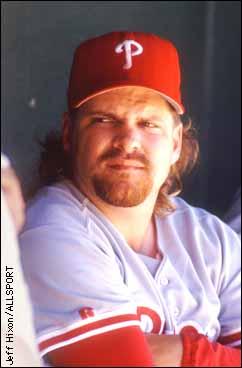 Probably thinking either "I ain't hittin' worth a spit,"
or "If this game goes into extra innings, we won't get back to the hotel in time to get room service."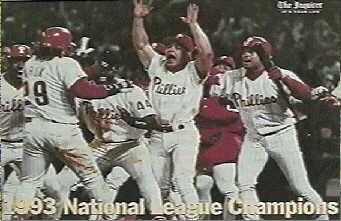 There will never be another team like the '93 Phils. Ever.

If you are going to link images from this page: Please do me the courtesy of including a link to the page, www.bigfool.com/kruk. If you're going to use an image on a recurring basis (say, as a message board avatar or as a fantasy sports team logo), please save the image to your local machine and then upload it back to your server. Thanks.
---
Here are Kruk's career statistics, courtesy of the apparently revived Baseball StatsWeb.
From the Field: thoughts and memories contributed by fans.
Kruk on Letterman: You can now read transcripts of his appearances in 1992, a sub-par year for the Phils, and 1993, the year of the National League championship. I'm not going to say they're accurate down to every little stutter, but they're pretty good. I have heard that John appeared on the show two more times, but I don't have the video; if you do and would like to share, please e-mail me.
Chat session: John did an on-line chat on the Players' Association site on April 16, 1998. I managed to copy out most of it as it happened; you can read my poorly formatted text version or the better-looking version in their archive. I'm signed on as "Carlos del Vaca"; note the plug I got in for this page.
If you're reading this page and don't already have John's I Ain't an Athlete, Lady..., go buy it now.
---
---
Most of the articles I had listed here are now 404, but some survive:
---
Links to fan-produced Phillies sites (you can find MLB @BAT and USA Today yourself):
Carl D. Orr; please put "John Kruk home page" as your subject, or else your message may get lost in the flood of spam I receive every day. The Phanatic rules all.