Carl's Top Ten Las Vegas Things To Do
<![if !vml]>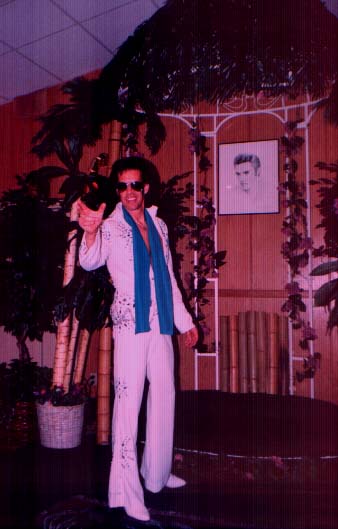 <![endif]>1.  Gamble.  Most of the places on the Strip will have $5 minimums for craps and card games.  There are very few bad places to play, but if you want to gamble on the cheap, you need to go downtown, where you can find $1 and $2 minimums.  My favorite spot to gamble is the Las Vegas Club, where you can gamble very cheaply, especially in the wee hours of the morning when they have 25-cent crap games; you can also get a plastic football filled with your favorite alcoholic beverage.  Their coffee shop/diner on the second floor has good late-night specials as well.  On the Strip, the Sahara (north end) usually has $1 and $2 blackjack, and Casino Royale (center), an old dive by Strip standards but with a nice old-time Vegas feel, has low-budget craps.  In general, the more complex the game, the better your chances of doing well, so skip the Slots and Big Six Wheel, and learn to play Caribbean Stud, Let It Ride, Pai Gow Poker, and of course blackjack.  Pai Gow is probably the single best game for hanging out, playing cards, getting free drinks, and yet not losing your shirt in record time (you tend to tie a lot).  Always always always set your stake before you arrive:  how much money you are willing to lose on this trip.  If you've lost that much money, even if it's in the first hour and you haven't even checked into the hotel room yet, you're done, that's it, no more gambling.  If you do win a bunch of money early on, it's not a bad idea to convert some of it to traveler's checks and mail them home or otherwise stash it.  Visit The Wizard of Odds for excellent gaming advice.
2.  Eat buffet meals.  I don't go to all-you-can-eat buffets at home, but for whatever reason they're a quintessential part of the Vegas experience.  My "Las Vegas Diet" consists of a buffet soon after waking up, say , then a late-night special meal at about (see #8 below).  That's all you need (plus plenty of booze, of course).  The single best buffet in terms of good food for good money is probably Main Street Station downtown.  The Golden Nugget is also a pretty good downtown buffet.  The Rio, just off the Strip, has two excellent buffets, their regular one and a seafood buffet, that are well worth the trip over there.  Bally's and the Flamingo have decent, reasonably-priced buffets; if you want to splurge, go to Bellagio, the Mirage, or Paris.  If you follow only one piece of advice on this list, make it this one:  avoid the buffet at the Boardwalk Hilton at all costs.  I'd skip the Sahara, the Excalibur, and Circus Circus as well.
3.  Go visit as many casinos as you can, just to see the insane architecture and all the crazy free crap they have for you to see.  Especially if it's your first time to Vegas, you'll enjoy just walking through these places, like the Luxor pyramid or the crazed sprawl of the MGM Grand.  A few years ago there was a trend of having free "shows," mostly outside, to attract attention.  The absolute best is the pirate battle at Treasure Island, which features cannons, guys falling into the water, and a sinking ship.  The "volcano" at the Mirage is entertaining, especially after dark.  Excalibur has a super-cheesy dragon-wizard battle.  Caesars has a couple of animatronic statue things in their shopping area.  The Tropicana has a little zoo, and the Flamingo has not only the flamingos you'd expect but penguins.  Downtown there's a cheesy light show on Fremont Street; not worth a special trip, but if you're down there you might as well get drunk (gambling, booze, and hotel rooms are all cheaper downtown) and watch it.
4.  Spend a few bucks for more casino-based entertainment.  A lot of places have rides, great for the kids.  Most obvious are the roller coasters that wind in and out of the Sahara and New York New York.  A number of places have motion-simulator rides, including the Luxor and Caesars.  The Las Vegas Hilton has its Star Trek exhibit, which is worth it if you're a Trekkie but probably not for a casual fan.  A lot of these are a bit pricey, but you can usually find 2-for-1 coupons or the like.  If you have some money to burn, go see a show; there are plenty of options.  Cirque du Soleils' "O" at the Bellagio is supposedly breathtaking, and Penn & Teller are currently at the Rio.  Celine Dion just opened her very silly show at Caesars, if you're into that sort of thing.
5.  Get as much free and cheap crap as you can.  This can be a hobby in itself.  In the competition to bring in potential gamblers, a lot of casinos (especially the older ones) will wave coupons at you to get you to come in.  You can get plenty of great stuff from these, like cheap drinks ($1 or 2-for-1), 2-for-1 meals at buffets or coffee shops, or casino match play (put down $5 and the coupon, and if you win you get $10).  Many hotels give you a coupon book when you check in.  You can also get coupons by joining a slot club. These are free, sort of frequent-gambler cards that keep track of how much money you've dumped into the machines, and they'll send you good offers for return trips if you spend enough.  But it's easy enough to just join up, get the coupons, and get the hell out of there.  Overall, there's lots of drink specials, "free slot pulls" where you can win stuff, and random free crap if you just keep your eyes open.
6.  Go to the pool.  Some casino hotels are home to the best pools I've seen anywhere.  Mandalay Bay, the Flamingo, the Tropicana, and the Rio are the best.  Some others are pretty decent.  Most of them have pool staff who ask to see a room key when you go in to the pool area, so if your hotel doesn't have a good pool and you want to sneak into someone else's, scout it out first.
7.  Go shopping.  The Forum Shops at Caesars is worth a look just for the architecture and atmosphere.  There are really nice shopping areas at the Aladdin and the Venetian as well.  When you're ready to actually buy stuff to take home, head down to the World's Largest Gift Shop down by the Stratosphere, to get your dice clock, your Las Vegas nail clipper, a couple keychains, casino cards at $1 a pack for all your friends, and lots of cheesy garbage that you never knew you needed.
8.  Eat a cheap late-night meal.  Most casinos have a diner-type restaurant, referred to as a "coffee shop" in the local terminology.  These are your best bets for late night dining, as a lot of them have great specials, $1.99 ham & eggs and the like.  They're not always on the menu; look at the special board or ask your server.  The Beach Café at the Rio used to have a late-night $1.99 steak & eggs that we often made a special trip over for; don't know if it's still available but you can ask.  Of course, there are plenty of great dining options besides buffets and cheap late-night meals, but you have to eat each of these ways at least once.
9.  Visit the Hoover Dam.  If you need to get out of dodge for a day, this is a good trip.  It's a good 45 minute drive, but well worth it to see this behemoth of concrete.  The tour is great; highly educational.  Plus you can stand right in the middle and be in Nevada and Arizona at the same time.  On the way back, if your gambling jones has returned you can stop at one of the roadside casinos, which usually have low-limit games.
10.  Wait until after dark, and go have a drink at the bar in the Stratosphere tower.  They'll charge you about $8 to go up, but it's totally worth it for the view of the city at night.  Don't bother with the rides up there.  The restaurant is nice but very pricey; I prefer just to go to the bar.
For more information and maps, visit Cheapo Vegas.