Bobblin' around RFK
Yesterday's game marked the shortest time I've spent in my seats in 515. Since yesterday was the Screech bobblebelly giveaway to kids 12 and under, I took one of my two favorite under-12 people (the one who can walk by herself) to be subjected to Mets fans. We got there a little late, and after scoping out the food court and settling on regular ol' hot dogs 'n' sausages, we got to our seats for the top of the third.
Then I noticed the bobblebelly voucher card said "redeem by bottom of the fourth," so after just one inning we were off again, schelpping to the far side of the park where they were handing out the Screech dolls (plenty of which were in the hands of people who didn't appear to have kids with them). By the time we got through that (and missed the Presidents' Race), I didn't much care about heading back to 515, so we just headed up and found seats in the outfield, somewhere around section 547. I have to say that dropping the outfield ticket prices to $5 and $3 is a stroke of genius by the Lerners; those sections are much more filled than they were at $10 and $7, and getting those people in the door means they shell out for concessions, where the real money is. For $3, those are good seats, just like Charles Shaw is a good wine for two bucks.
We spent about an inning and a half there, then wandered off to find popcorn, which was essentially Lizzie's lunch, since she just picked at her hot dog. (I let her stand on the chairs, too, which she can't do at home. Dad's a slack disciplinarian at the ballpark.) We resettled on the right field line, section 504 or so. It was there that we saw the turning points of the game: First, the unearned run in the 7th. Disappointing, not just because it tied the game, but ruined Armas' shutout bid. The Nats have a very real chance at becoming the first team in major league history without a single complete game, but Armas looked like he was trying to put an end to that yesterday.
Next, Soriano's bases-loaded at-bat in the bottom of the 7th. I was firmly in the "trade Soriano" camp in July, but maybe there's something to this "Nationals' superstar" business. Soriano gives us what I've always called an "Oh Shit" guy--when you as the opposing pitcher walk the preceding hitter to load the bases, you look over and see him in the on-deck circle, and go "Oh, shit." That's exactly what happened when the Mets walked Big Daryle Ward (who may actually be my favorite Nat with Livan gone), and the fans got fired up for Soriano in a way they wouldn't have for Nick Johnson or even Zimmerman. Unfortunately, Fonzie couldn't deliver, grounding out to end the threat.
Finally, there was Zimmerman's baserunning goof. After his single and a pitching change, Nick hit one decently, but that was run down easily enough by the center fielder. And there's Zimmerman all the way around second heading for third. I thought maybe he thought it was a double to the gap off the bat and was trying to score from first, but no, he just thought there were two outs, like a beer league softball player. He was esily doubled off first, and the game was all but over (though the Nats did get the winning run to the plate against Billy Wagner in the ninth). Let this be the most embarassing play of Zimmerman's career.
We didn't witness that ninth, however, because we went to get in line for running the bases. That line stretched from the entrance to the Diamond Club in left-center field, well past third base and halfway to home. Yikes. But once it finally started moving, it moved pretty quickly. I asked Lizzie if she wanted to run by herself, but she demanded I come with her. Yes, it was hard on me, running the bases on a major-league field, but like the good dad I am I endured it.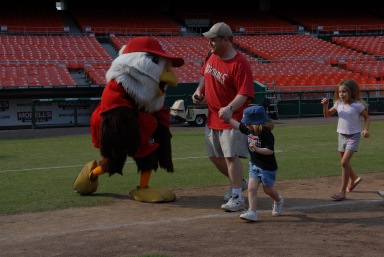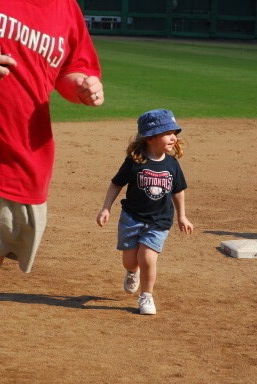 Sadly, I'm going a month between home games at this point. Between our upcoming trip to Texas and games I sold off for other reasons, I'm not back at RFK until September 15. In the interim, though, I expect to add Major League Ballpark #25, that stupid little box in Houston.
Posted by Carl at
11:19 AM
|
Comments (4)