Sweep!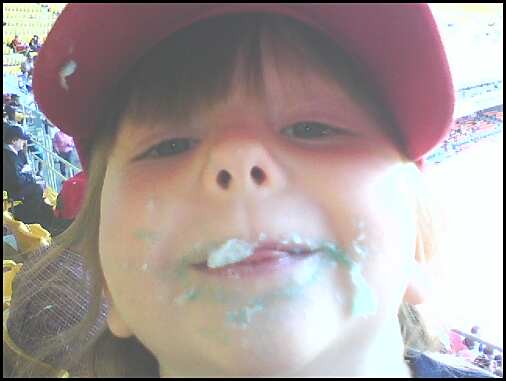 Liz approves of the cotton candy at RFK.
Like Basil says, it's a long season. One week your favorite team looks like ass, losing eight in a row, then they turn around and sweep a weekend series. This put a stop to my fear that the Nats would lose every game I attend in person this season. Still, this was one of those games where a lot of things broke the right way, and the fundamental flaws of the team were still on display.
The Nats' five-run outburst in the second was a collection of singles, an error, a force out, and the Guzman triple that could have been a single if Borchard hadn't tried to make a heroic diving catch. Then in the sixth we were treated to some miserable fielding: Church lost a fly ball in the sun, and Fick just flat-out botched a foul pop-up, looking EXACTLY like me botching a foul pop-up at third base in a softball game a copule weeks ago. Fortunately this was the only bad inning a decent start by Simontacchi, and Colome was able to stop the bleeding before coughing up the lead.
Speaking of lousy fielding, Zimmerman made a wacky play in the second that fortunately didn't cost us anything. With runners on first and second and two out, the opposing pitcher hit a grounder down to third. Zimmerman scooped and flipped to second for the force... except that Lopez was entirely not expecting Zimmerman to throw there and was thus nowhere near the bag. Fortunately, he was at least in line for the throw, and when he realized what was happening, he made a nice pseudo-double play turn and threw to first for the out.
I missed Rauch's save, as we were standing in line to run the bases. They had the Presidents on the field for the Diamond Dash, which thoroughly freaked out the Little Fool, but I made her run anyway. We didn't wait for half an hour just to turn back because she was scared of George Washington's freakishly large head. Reflections Photo has gotten much better at protecting their images, so if you want to see pictures from yesterday, go here and look in the last couple rows for me in my grungy old Montreal jersey. (Something odd: I got this URL for the best single shot of me and Liz, and when I changed the image ID by one thinking it would be the next picture in the sequence, I got this.)
Posted by Carl at
09:27 AM
|
Comments (0)