Major League Ballpark #26: Busch Stadium
For this year's ballpark trip, I seized the opportunity to visit my man Otis and take in the new stadium in St. Louis.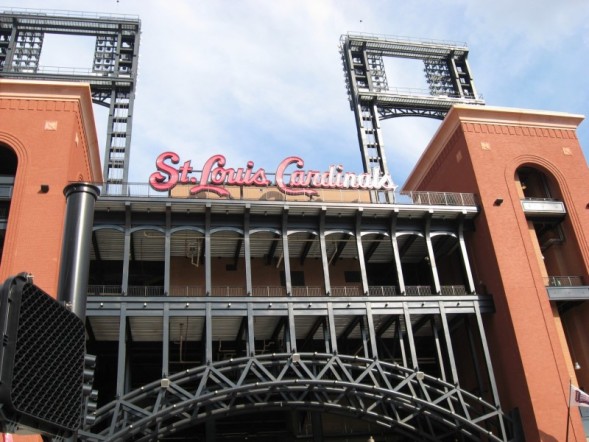 Was this effectively a preview of the new ballpark in DC? I kind of hope not, but we could do worse. The new Busch is a nice enough stadium, and it's much less a Baseball-Centric Maximized Entertainment Experience™ than that stupid little bandbox in Houston. It's not without its flaws, though. There's a distinct difference between "inside" and "outside"--when you're out on the concourse, you can't really see the field at all, like in the old cookie-cutter stadiums like RFK. The new parks in Philly and Seattle feel much more open and airy, and you can keep an eye on the game while grabbing a beer. There also seemed to be a lack of distinctive food options, though I may well have just missed out on that. The stands I saw had typical ballpark fare, and I did note one concession with barbecue.


There's a lot to like, though. While you're out on the concourse, there are good views of the surrounding neighborhood and the St. Louis arch. We could see Al Hrabosky's Ballpark Saloon, which looks like it's a half-block long. Between the second and third levels behind home plate hangs the old scoreboard from the previous Busch Stadium, with the same scores from the last day of the 2005 season (I recognized Phillies 9, Nationals 3). Just upstairs from our seats in left field, there's a bar with a good dozen varieties of quality beer. If you were willing to wait in line, you could have your picture taken with the 2006 World Series trophy. And it's true: the Cardinals have really great fans; more people in the stands were wearing home team gear than anywhere I've ever been.
"A bad day at the ballpark beats a good day at the office," I'm fond of saying, and I'd be pretty pleased if I could call a ballpark like the new Busch my "third place." I just can't put it up there with the likes of Wrigley or the Yard, though. Miscellaneous thoughts and the ritual "Carl & Otis at the ballpark" photo after the jump.
As for the game itself: When we caught SportsCenter later that night, they remarked that coming into the game, Tim Hudson was 95-1 in games in which he was staked to a lead of three runs or more. And now he is 95-2. The Cards' half of the 5th was just one base hit after another, capped by Rolen's double and So Taguchi's pinch-hit sac fly that plated the effective winning run. Isringhausen did his best to make it interesting in the 9th, though it wasn't entirely his fault--Rolen made a great stop on a Francoeur grounder, but zinged it past Pujols, and luckily for the Cards it went into the stands. If it had rolled down the line, Teixeira could have scored from first and tied the game. Instead it was second and third and the slumping but still formidable Andruw Jones at the plate, but Isringhausen struck him out to end it.
For all the praise of Cardinals fans, we sure couldn't get them to chant "Larrr-ry" at Chipper Jones.
I paid $2.50 for an extremely crappy scorecard. Tiny boxes, tons of ads, and no spaces to put the pitchers. Continued evidence that there are some things MLB owners just don't get: you'd think they could make some of their most devoted fans happy by producing a scorecard that doesn't suck.
I bought the girls a kid-sized Pujols t-shirt, and a Fredbird doll, which Catie slept with last night. I'm annoyed at myself for not getting a Junction Jack doll in Houston last year; they'd have quite the little mascot collection going (they already have a Screech, of course).
Other St. Louis amusements: we attended the Festival of Nations and ate lots of yummy ethnic food, stopped by the Missouri History Museum, and hit The Lot music festival, where we enjoyed a set by the heretofore unknown Jonathan Cour (who did a stirring version of the Postal Service's "The District Sleeps Alone" along with his own quality material). Alas, we still did not go to the place that serves pig-snout sandwiches. One day.
Front-runners for next year's trip: Cincinnati, Chicago Sox, and Denver. Feel free to offer up your tickets or couch in the comments!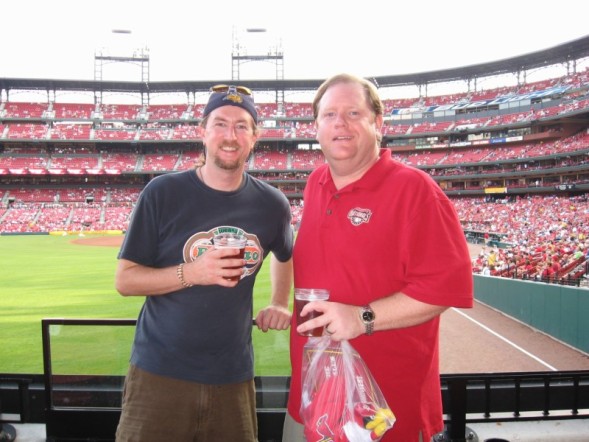 Posted by Carl at
02:14 PM
|
Comments (0)